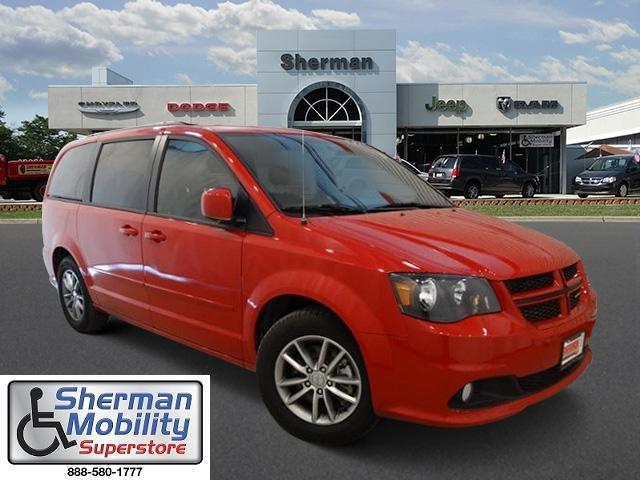 If you or a loved one is interested in used mobility vans in 
Skokie
-Sherman Mobility is the place that will
offer you the best quality in mobility vans! 
Sherman Dodge Mobility
 has a
 large inventory
 and variety for
you to find just what you need! Our inventory of used mobility vans will not disappoint, and neither will
our excellent customer service! With 20 years of experience, we have worked with customers just like
you and they are very satisfied with their 
used mobility vans.
Skokie, IL. is home to our dealership. However, our customers are coming from Wisconsin, Indiana and
more states across the Midwest.  Word has spread that 
Sherman Dodge
 is the ultimate destination for
used mobility vans. We have one of the largest inventories of mobility vans in the area! We carry
Chrysler Town and Country Vans
 as well as the best-selling 
Dodge Grand Caravan.
 With so many colors,
styles and trims in stock, you will find just what you need. The dedicated staff at 
Sherman Mobility
 will
help you along the way in choosing the 
best mobility solution
 in your used mobility van.  We have many
options available to start your journey to the freedom that comes with owning your own used mobility
van.  You will not have to rent a mobility van for that next trip. You will soon have a customized van of
your own.
Our customers from Evanston, Villa Park, Plainfield, Chicago and Glenview know the advantages of
buying from Sherman. One is that we have the absolute best deals on 
mobility vans in Skokie
! Next, we
partnered with AMS Conversions to offer our customers many mobility equipment options. Drivers who
require special driving aids can customize their 
used mobility van 
with equipment such as pedal
extensions, handybars, electric parking brakes and more. You may also choose a 
rear entry or side entry
vehicle with our assistance and advice from your physician, to make the choice that is best for you. Our
mobility vans have a 125-point safety inspection completed to make sure you have the safest possible
vehicle.  Your safety is our top priority.
We have recommendations from the top organizations in the industry of mobility vans. We are
recommended by Illinois Continuity of Care Association, 101 Mobility, Spinal Cord Injury Association of
Illinois. This shows that we take the service of providing excellent 
handicap accessible vehicles
 for our customers very
seriously. We also have great 
customer testimonials
 that we take great pride in. We strive to make sure that our
customers with disabilities are well taken care of, and get the excellent used mobility van they deserve!
Please call 866-594-4000 today and our specially 
trained staff
 for Used Mobility Vans in Skokie-
Sherman Mobility
 will get you started on selecting the best Mobility Van for you!