Ram Dealer in Sauganash Illinois
Featured Ram offers in Sauganash IL
RAM vehicles excel in providing both rugged durability and refined comfort, making them a versatile choice for various lifestyles. With powerful engines and impressive towing capacity, they effortlessly handle tough tasks while offering a smooth and comfortable ride. Their innovative technology and spacious interiors ensure a delightful driving experience, making RAM vehicles a fantastic choice for those seeking the perfect blend of capability and luxury.
RAM vehicles are renowned for their exceptional performance, boasting a range of powerful engines that cater to diverse needs. These engines are complemented by advanced suspension systems, resulting in a smooth and composed ride, even over rough terrain. Additionally, RAM trucks often feature advanced towing technology, like integrated trailer brakes and trailer sway control, ensuring confident and safe towing capabilities. Whether you're hauling cargo or cruising on the open road, RAM vehicles consistently deliver impressive performance tailored to your requirements.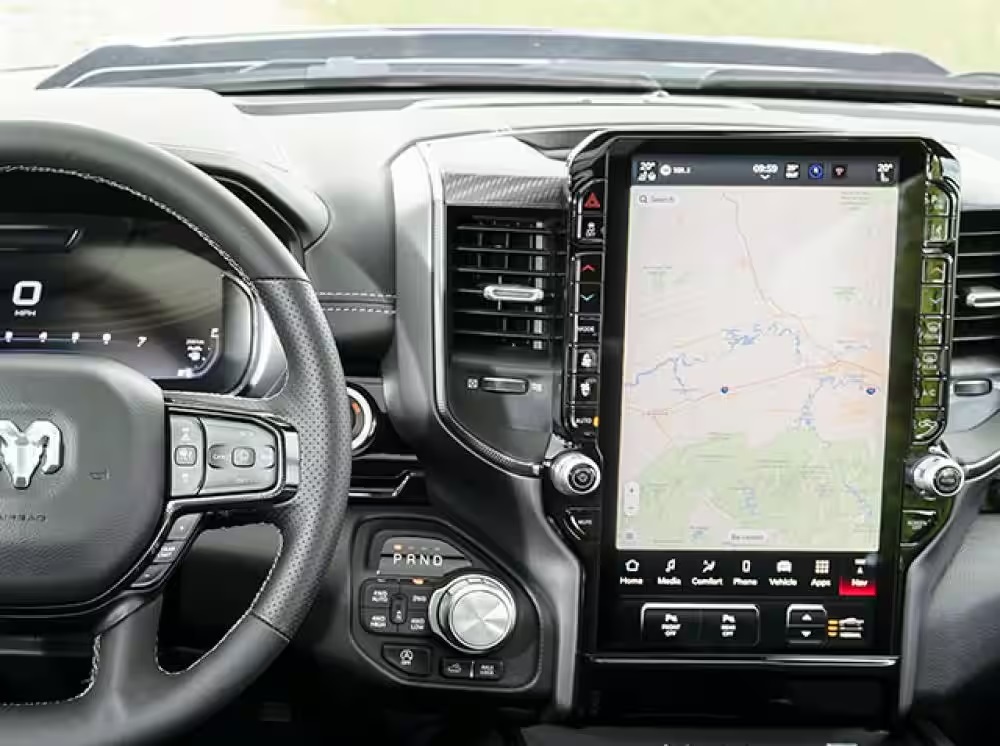 RAM vehicles are equipped with cutting-edge technology that enhances both safety and convenience. Many models feature the Uconnect infotainment system, which offers an intuitive touchscreen interface, smartphone integration, and available navigation. Safety-wise, RAM trucks often include advanced driver assistance features such as adaptive cruise control, lane departure warning, and blind-spot monitoring to provide a secure driving experience. Additionally, RAM's available air suspension technology allows you to adjust ride height for improved fuel efficiency or enhanced off-road capability, adding versatility to these already impressive vehicles.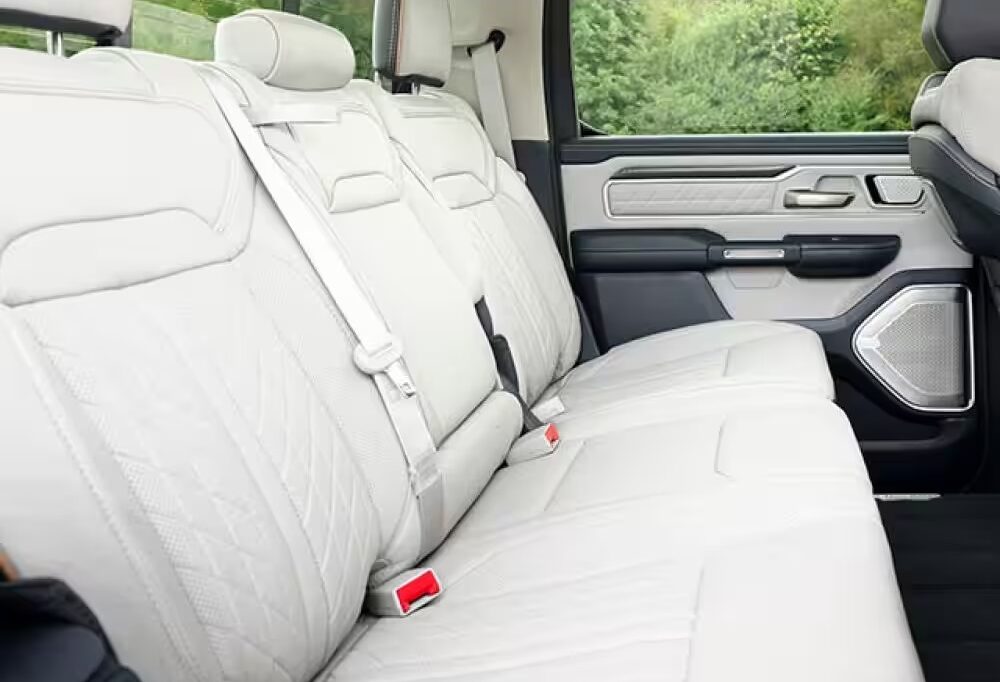 RAM vehicles are known for their bold and distinctive design, featuring rugged yet stylish exteriors that make a strong statement on the road. The iconic RAM grille is a hallmark of their design, exuding a powerful presence. Inside, RAM interiors are carefully crafted with premium materials and attention to detail, offering spacious cabins and ergonomic layouts that provide both comfort and functionality. Whether it's the aggressive stance on the outside or the well-appointed interior, RAM vehicles are designed to leave a lasting impression and cater to the needs of discerning drivers.
A Ram Shopping Experience Fully Online in Sauganash, IL
Experience the epitome of automotive excellence with a test drive of a RAM vehicle today. Discover the unrivaled power, precision engineering, and cutting-edge technology that define the RAM brand. Don't miss your chance to elevate your driving experience – schedule your test drive now and unleash the true potential of the road with RAM.
Monday 9:00AM – 8:00PM
Tuesday 9:00AM – 8:00PM
Wednesday 9:00AM – 8:00PM
Thursday 9:00AM – 8:00PM
Friday 9:00AM – 8:00PM
Saturday 9:00AM – 7:00PM
Sunday Closed
Monday 6:00AM – 6:00PM
Tuesday 6:00AM – 6:00PM
Wednesday 6:00AM – 6:00PM
Thursday 6:00AM – 6:00PM
Friday 6:00AM – 6:00PM
Saturday 7:00AM – 5:00PM
Sunday Closed
Overview Of All Ram Models Available in Sauganash IL
Ram is an unmatched brand that is available in multiple configurations, each with its own characteristics and unique features. The main models we can deliver to Sauganash, IL as of 2023 include:
RAM 1500: The RAM 1500 is a versatile full-size pickup truck known for its comfort and power. It offers a range of engine options, including V6 and V8 HEMI engines with up to 395 horsepower. With a maximum towing capacity exceeding 12,000 pounds, it's well-suited for towing trailers and boats. The RAM 1500 also features advanced technology, including the Uconnect infotainment system and various driver-assistance features.

RAM 2500: The RAM 2500 is a heavy-duty pickup truck designed for tougher jobs. It offers a choice of powerful engines, including a 6.4-liter V8 and a Cummins turbodiesel for maximum torque and towing capacity. With the ability to tow up to 19,680 pounds, it's suitable for heavy trailers and equipment. The RAM 2500 also provides a spacious and comfortable cabin with various luxury features.

RAM 3500: The RAM 3500 is the most powerful model in the RAM truck lineup, designed for heavy-duty work. It offers a range of engine options, including the high-output Cummins turbodiesel for exceptional towing capability. With a maximum towing capacity of over 37,000 pounds, it can handle the most demanding towing tasks. The RAM 3500 also features advanced towing technology, including the fifth-wheel and gooseneck prep package.

RAM ProMaster 2500: The RAM ProMaster 2500 is a commercial van designed for cargo or passenger transportation. It's equipped with a 3.6-liter V6 engine and a front-wheel-drive system for efficient maneuverability. With various cargo configurations and high roofs, it offers increased cargo capacity. The ProMaster 2500 also provides versatile upfitting options for various business needs.

RAM ProMaster 3500: The RAM ProMaster 3500 is a larger version of the ProMaster series, offering more cargo space and payload capacity. It's powered by the same 3.6-liter V6 engine for efficient performance. This model is ideal for businesses requiring a larger cargo van for transporting goods or passengers and offers a range of safety and technology options to enhance productivity on the job.
These RAM models cater to a wide range of needs, from daily driving and towing to commercial and cargo transportation, ensuring that there's a RAM vehicle suitable for a variety of tasks and preferences.
Ordering a Ram in Sauganash
Whether you crave off-road adventures or stylish city commutes in Sauganash Illinois, we have the right vehicle for you.  Elevate your drive with RAM. Experience power, performance, and precision like never before. Discover the perfect blend of capability and luxury. Reach out to us today to arrange an in-person or virtual tour. Our team of professionals is eager to assist you in selecting the perfect Ram for you in Sauganash Illinois. Test drive a RAM today and redefine your expectations on the road.