Unleash Luxury: Jeep Grand Cherokee L For Sale In Chicago
Explore the Jeep Grand Cherokee L for sale in Chicago at Sherman Dodge. Discover luxury, performance, and adventure in this premium SUV.
Experience the epitome of luxury and adventure with the Jeep Grand Cherokee L, now available for sale at our esteemed dealership in the heart of Chicago. Step into a world where sophistication meets rugged capability, where premium comfort seamlessly blends with exceptional performance. We are proud to present the Grand Cherokee L, a vehicle that embodies the spirit of exploration while indulging you in a realm of opulence. Unleash luxury like never before as you explore the possibilities that await within this remarkable SUV. With Sherman Dodge, you can rest assured that you are getting the best value for your money.
Features Of Jeep Grand Cherokee L
The amazing Jeep Grand Cherokee L offers a host of features to make navigating the streets of Chicago easier and more enjoyable. From its cutting-edge design to its impressive performance, this model is sure to turn heads wherever you go!
Spacious Three-Row Interior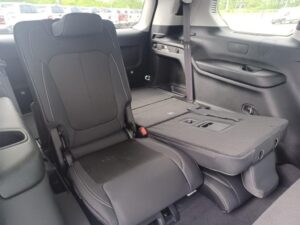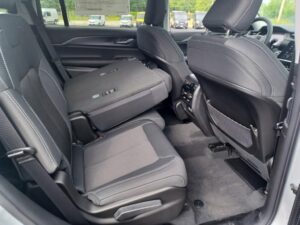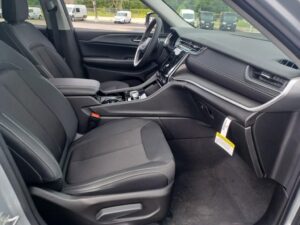 The Jeep Grand Cherokee L boasts a generously spacious three-row cabin that redefines comfort and convenience. There's plenty of room for all seven of you, thanks to the well-planned layout of the cabin. There's a great balance between relaxation and productivity in the seating configuration, and high-quality materials throughout create an air of refined elegance. The Grand Cherokee L also has flexible seating arrangements, so you may tailor the interior to your requirements, be it for passengers' comfort or cargo space.
High-Tech Infotainment System
At the heart of the Grand Cherokee L's interior lies its state-of-the-art infotainment system. The system's sleek touchscreen user interface makes navigating the many available media and data sources a breeze. Intuitive smartphone integration makes it simple to hook up your phone and use its maps, audio, and phone functions. Wireless charging is only one example of the system's simple features that contribute to a more organized and linked driving experience. With the Uconnect 5 system's 8.4″ touchscreen and 6-speaker arrangement, passengers can enjoy a more immersive and high-quality in-car entertainment experience.
Advanced Driver Assistance Technologies
Safety takes center stage in the Grand Cherokee L, thanks to its advanced suite of driver assistance technologies. Together, these state-of-the-art capabilities make drivers feel more secure and keep them safer on the road. The vehicle's lane-keeping assist and adaptive cruise control work together to keep the car in its lane at all times. The automatic emergency braking system is an additional safety feature that engages the brakes in the event of an imminent accident. Knee airbags are one example of an auxiliary safety feature that contributes to a comprehensive safety strategy.
Impressive Towing And Hauling
For those with towing needs, the Grand Cherokee L excels in this department as well. With a substantial towing capacity of up to 7200 pounds, this SUV is well-equipped to handle trailers, boats, and other heavy loads. The inclusion of features like trailer sway control ensures stability while towing, enhancing overall safety and control when hauling substantial weight.
All-Terrain Capability
The Grand Cherokee L is not restricted to asphalt; it can and does perform admirably in unimproved terrain. Its available 4×4 systems provide you with the grip and handling you need to confidently drive through rough terrain. The SUV's off-road capabilities are bolstered by a 3.45 rear axle ratio, ESC, and 4-wheel disc brakes. The Grand Cherokee L displays its worth in a variety of situations, from driving on rugged trails to dealing with severe weather.
Luxurious Amenities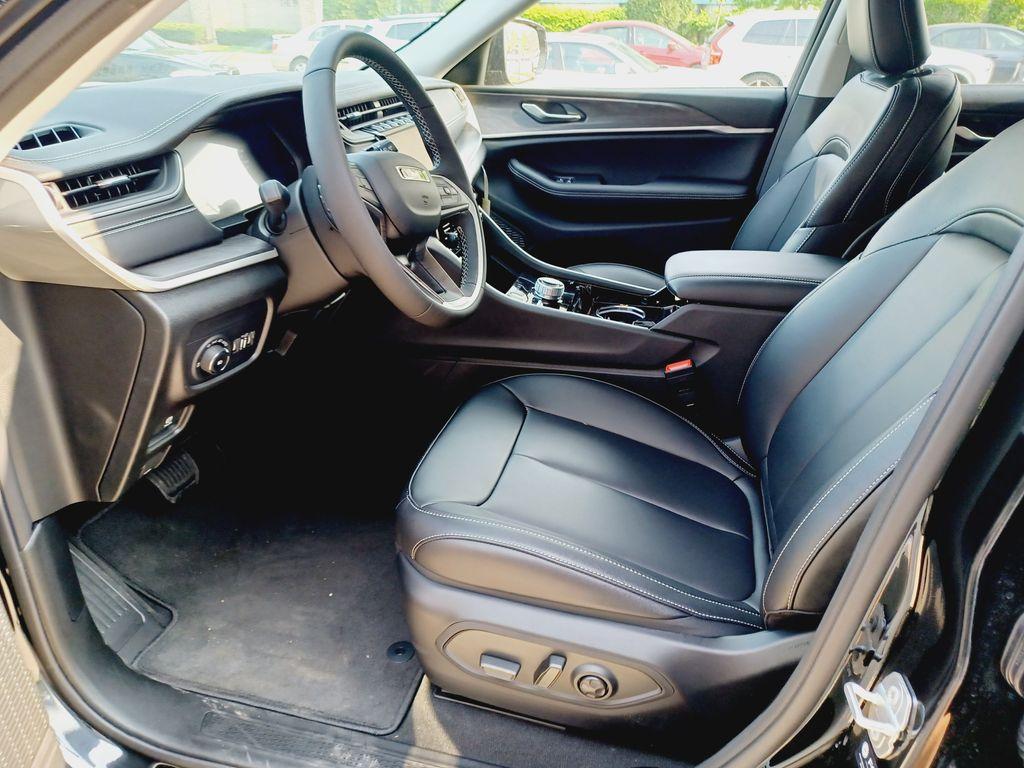 The Grand Cherokee L pampers its passengers with a plethora of high-end features, raising the bar for what can be expected from a car in its class. Every aspect, from the luxurious premium leather upholstery to the climate-controlled seats that are comfortable no matter the season, has been carefully created. The expansive sunroof floods the room with natural light, making it feel more spacious and open. Each and every trip will seem like a true luxury experience thanks to these high-end cabin amenities.
Performance Options
The Grand Cherokee L offers a selection of performance options that cater to varying driving preferences. The 3.6-liter Pentastar V6 engine delivers a balance of power and efficiency, while the 5.7-liter Hemi V8 engine offers enhanced performance and capability. Both options are paired with an 8-speed automatic transmission that ensures smooth gear transitions and responsive acceleration, further enhancing the SUV's dynamic driving experience.
Process Of Selecting Jeep Grand Cherokee L For Sale In Chicago
The Jeep Grand Cherokee L is available for sale in Chicago at dealerships. Whether you're looking for the latest model or a used version, there's something to suit your budget and preferences. Below is a process or steps to go through while buying,
Locating Authorized Dealerships
When considering buying a Jeep Grand Cherokee, it's crucial to begin your search by identifying authorized Jeep dealerships in the area. Working with reputable and authorized dealers ensures a transparent and reliable buying process. You can utilize online search engines and official websites or even ask for recommendations from friends and family who have had positive experiences with dealerships in the region.
Exploring New And Pre-Owned Options
There are several Grand Cherokee L models available at the dealership. You can look at both new and used cars. The newest features and warranties are included in certified cars, giving you peace of mind. On the other hand, pre-owned versions can save you money while still providing top-notch performance. When choosing between new and used possibilities, take into account your spending limit, tastes, and priorities.
Test Drives And In-Person Visits
It's essential to schedule test drives and pay showrooms a visit before making a final selection. This phase enables you to get a hands-on feel for the features, functionality, and comfort of the Grand Cherokee L. Test drives allow you to learn how the car accelerates, handles, and feels on the road. Additionally, going to the dealership gives you the chance to speak with the sales staff, make inquiries, and learn more about the features the car has to offer.
Vehicle History And Inspection
Conducting comprehensive inspections and reviewing vehicle history records are essential for used Grand Cherokee L models. Examine the vehicle's condition mechanically and aesthetically for wear and any possible problems. Vehicle history records offer useful details on the past of the car, including information about accidents, maintenance, and ownership history. In this sense, websites and other resources might be helpful.
Expert Consultation
Throughout your purchase process, dealership specialists are a great resource. They may provide advice, provide clarification, and help you make well-informed decisions. Ask about the technical details, available features, financing possibilities, and any uncertainties you may have without holding back. Their knowledge can assist you in sorting through the alternatives and selecting the Grand Cherokee L model that best suits your requirements.
Online Research And Resources
Take advantage of online resources when researching and comparing Grand Cherokee L trims. Dealership websites provide detailed information about available models, features, pricing, and promotions. These online tools can assist you in narrowing down your options and making an educated decision before visiting the dealership in person.
Pricing And Financing Options Offered By Sherman Dodge
When it comes to purchasing the best Grand Cherokee L, Sherman Dodge is one of the leading dealerships in Chicago. We offer an outstanding selection of pre-owned and certified versions, as well as leasing and financing options.
Financing Plans
Our flexible financing options are designed to meet the needs of customers with varying budgets and personal preferences. Our dealership offers a variety of vehicle finance options, including loans and discounts. Loan terms, monthly payments, and initial deposits are all negotiable with our available financing options. This increases the likelihood that you'll locate a loan option that works for your situation.
Trade-In Considerations
When financing a Grand Cherokee L, trade-ins play a significant role in determining the initial costs and monthly payments. A trade-in vehicle can be used as a down payment, reducing the amount you need to finance. This can lower your monthly payments and make the overall transaction more manageable. Our team can assess your trade-in vehicle's value and help you understand how it affects your financing arrangement.
Interest Rates And APR
Calculating the total cost of your purchase requires that you be familiar with the interest rates and Annual Percentage Rates (APR) associated with various financing alternatives. We are upfront regarding interest rates and annual percentage rates (APR), providing customers with a sense of what they may expect to pay for a loan over time. You may then choose the financing option that works best with your needs and preferences.
Lease Terms And Conditions
We provide transparent lease terms and conditions for customers looking to lease a Grand Cherokee L. To guarantee your full comprehension of the leasing procedure details such as the lease's duration, mileage cap, and possible termination choices are laid forth. Our dealership is here to help you explore your leasing alternatives, whether you're searching for a shorter-term commitment or want the freedom to upgrade at the conclusion of the lease.
Credit Score And Approval Process
Your credit score is a major factor in determining whether or not you are approved for a loan. When deciding whether or not to approve a customer for financing, we take into account the applicant's credit score. Our dealership uses a multi-factor approval procedure that includes a customer's financial and credit histories. We can help you look into viable financing choices even if your credit is less than stellar.
Unveil The Jeep Grand Cherokee L Experience With Sherman Dodge!
The Jeep Grand Cherokee L is a prime example of an SUV that brings the ultimate luxury to unwind in the city. With cutting-edge technology features and a stylish yet rugged exterior, this model is designed to deliver a top-ride experience. From selecting and pricing options to securing financing for the deal that's perfect for you, Sherman Dodge will become your trusted partner to ensure you get the most value for your money. It's time to become passionate about life again and take charge with a new Jeep Grand Cherokee L from our dealership. Get behind the wheel today and start navigating your world with turbocharged power and style. You'll be experiencing the ultimate luxury set on four stunning wheels; don't wait another day and head over to our website to check the inventory.