Jeep Grand Cherokee For Sale In Chicago: Find Your Perfect SUV
Searching for a Jeep Grand Cherokee for sale in Chicago? Visit Sherman Dodge for a selection of reliable, affordable Jeeps with all the features.
Are you on the lookout for the ideal SUV that seamlessly blends power, style, and performance? Look no further than our dealership in the vibrant city of Chicago, where the Jeep Grand Cherokee awaits you. With its impressive range of features and capabilities, the Jeep Grand Cherokee offers a dynamic driving experience that's perfectly suited for both urban adventures and beyond. In the heart of Chicago, your dream of finding the perfect SUV is about to become a reality. Explore the diverse selection of Jeep Grand Cherokees for sale at Sherman Dodge and embark on a journey to discover the SUV that aligns with your preferences and lifestyle.
Researching For A Jeep Grand Cherokee Dealership In Chicago
If you're searching for a new or used Jeep Grand Cherokee, your first step should be locating a reputable dealership in Chicago. Amidst numerous options, making the right choice might feel daunting. However, our dealership stands out as your ideal destination to explore the remarkable capabilities of the Jeep Grand Cherokee right here in Chicago.
Our Dealership & Online Platform
Our Chicago dealership stands out for its convenient location, strong reputation, and extensive selection of Jeep Grand Cherokee models. With a central position in the city, we're easily accessible, and our years of dedicated service have earned us a trusted name among customers. Our knowledgeable staff ensures you receive expert assistance as you explore our range of Jeep Grand Cherokees. Additionally, our user-friendly online platform allows you to browse our inventory, customize your search, view pricing, and make inquiries, all from the comfort of your home.
New Vs. Used
When deciding between a new or used Jeep Grand Cherokee, consider that a new model provides access to the latest features and comes with comprehensive warranties. It also assures an untouched history. On the other hand, used options offer affordability, potentially allowing you to access higher trim levels or more features within your budget. Certified pre-owned Jeeps offer a middle ground, having undergone rigorous inspections and featuring extended warranty coverage.
Certified Pre-Owned (CPO) Jeeps
Our selection includes certified pre-owned Jeep Grand Cherokees that have undergone thorough inspections to ensure their quality. These vehicles come with extended warranty coverage that goes beyond typical used cars, providing additional peace of mind. Along with being well-maintained, certified pre-owned Jeeps offer reduced risk and perks, making them a smart choice for those seeking reliability and value.
Why Choose The Jeep Grand Cherokee
The Jeep is an amazing combination of luxury and performance; owning one provides an incomparable driving experience. Some specs that make it distinct are as follows,
Unmatched Off-Road Capability
Picture yourself behind the wheel of the Jeep Grand Cherokee, an SUV that redefines exploration. Unleash your adventurous spirit as you navigate uncharted territories with its legendary 4×4 capability. From rocky trails to sandy dunes, this remarkable vehicle conquers diverse terrains with ease. Equipped with advanced off-road systems like Quadra-Drive II and Selec-Terrain, the Grand Cherokee provides the traction you need to venture off the beaten path confidently. With features like electronic single-speed automatic locking hubs and four-wheel independent suspension, you'll feel the thrill of conquering new horizons while embracing the raw beauty of nature.
Luxurious Interior And Comfort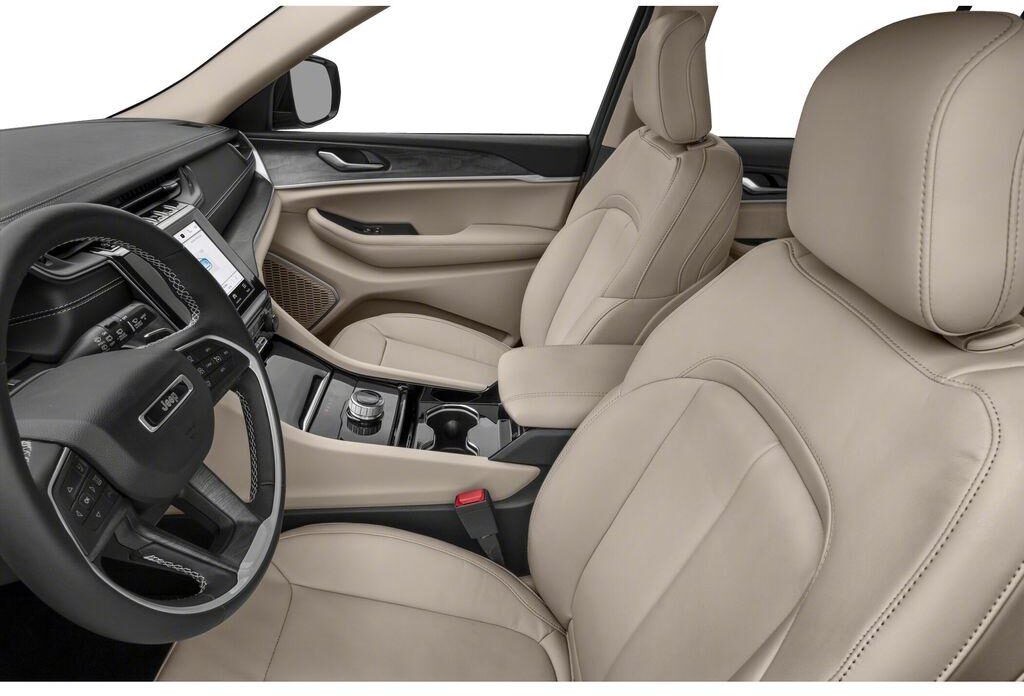 Step into a world of opulence as you enter the Grand Cherokee's luxurious interior. The SUV's upscale design is evident in premium leather seats, a leather steering wheel, and a heated steering wheel for ultimate comfort. Dual zone front climate control, interior air filtration, dual illuminating vanity mirrors, and turn signals in the mirrors exemplify the attention to detail that enhances your driving pleasure.
Advanced Technology And Safety
Experience cutting-edge technology and safety features that elevate the Grand Cherokee's driving experience. Engage with the world through interactive touchscreen displays that provide intuitive access to vital functions. Seamlessly integrate your smartphone to stay connected on the go while navigation capabilities open new avenues of exploration. Safety takes center stage with advanced features like adaptive cruise control, which adapts to traffic flow; blind-spot monitoring that keeps you aware of your surroundings; and automatic emergency braking that provides an extra layer of reassurance. In the Grand Cherokee, you're not just driving; you're pioneering the future.
Iconic Design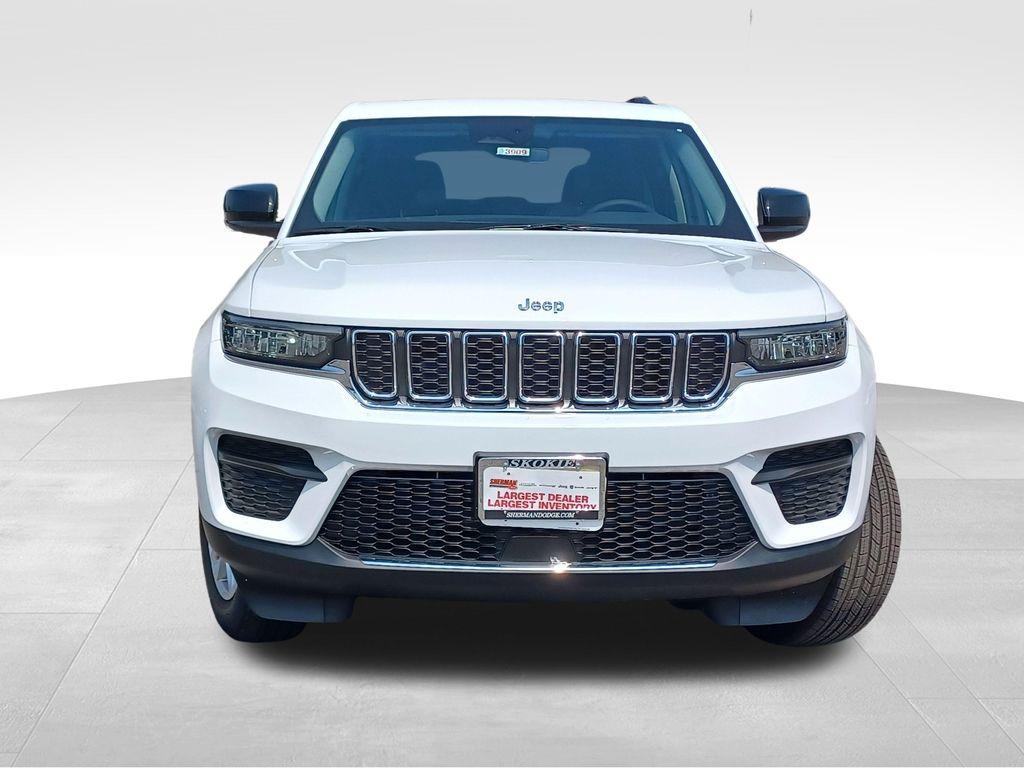 Behold the Grand Cherokee's iconic exterior design, a true masterpiece on wheels. Imagine the auto-delay headlamps illuminating your path as you embark on nighttime adventures. The LED headlamps not only enhance visibility but also add a touch of sophistication to your journey. Daytime running lights serve as a beacon of style and safety, ensuring you stand out on the road. And when the mist descends, front fog/driving lights slice through the obscurity, casting an aura of mystery as you navigate through the unknown.
A Legacy That Endures
Experience the profound value of the Grand Cherokee's legacy. Its robust resale value is a reflection of its enduring quality and timeless appeal. Built to last, the Grand Cherokee is more than just a vehicle; it's a companion for life's adventures. Its durability and reliability ensure that every journey is met with confidence, and its exceptional performance retains its allure over time. This isn't just a purchase; it's an investment in memories that will be cherished for years to come.
Family-Friendly And Spacious
Imagine the Grand Cherokee as more than just an SUV; it's a vessel of memories waiting to be created. With space for up to five passengers, it's the perfect canvas for family escapades and group outings. Its spacious cabin offers room to stretch and enjoy the ride, while versatile seating configurations adapt to your ever-changing needs. Whether it's a weekend getaway or a road trip of a lifetime, the Grand Cherokee's generous cargo space ensures you're prepared for every adventure. With family-oriented features designed to enhance comfort and convenience, every journey becomes a chapter in the book of unforgettable experiences.
Availability Of Variants Jeep Grand Cherokee
The Jeep Grand Cherokee is available in a variety of models and trim levels at our dealership, giving you the freedom to own the perfect version for your lifestyle. Some trims are as follows,
Laredo
The 3.6L Pentastar V6 engine that powers the Laredo version of the Jeep Grand Cherokee features a small, light construction and variable valve timing for enhanced performance. This variant has an 8-speed automatic gearbox to provide seamless gear changes. It provides plenty of space for passengers, with seating for seven. The Laredo is notable for having a 6,200 lb. towing capability, making it appropriate for hauling trailers and other goods.
Limited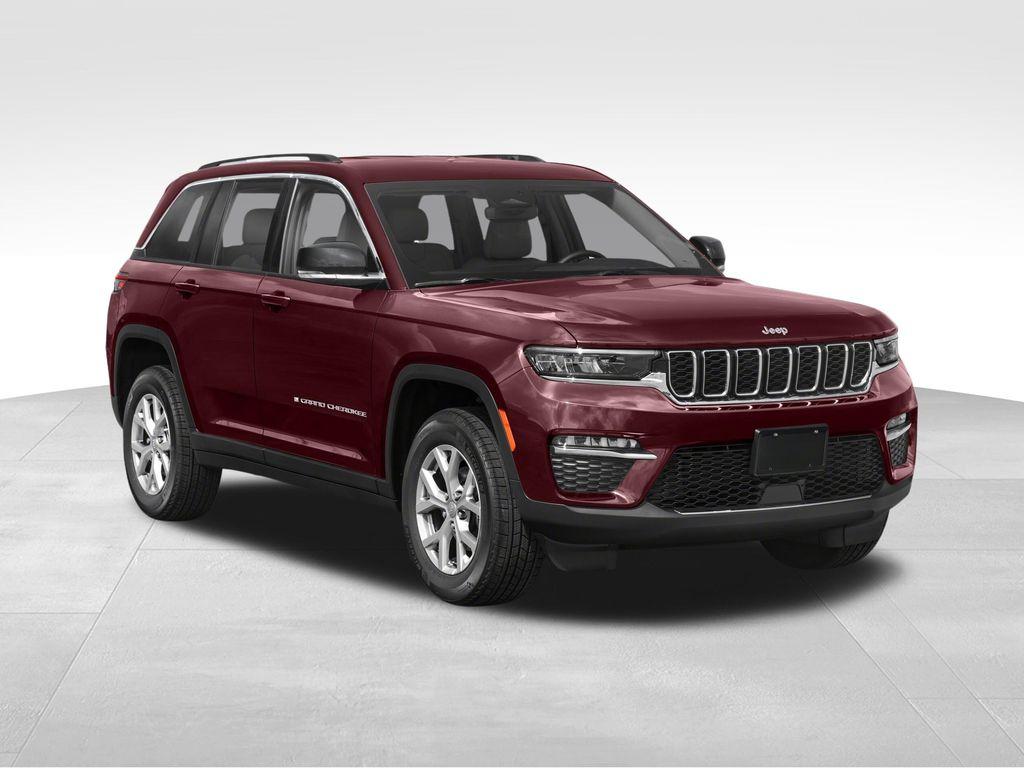 The Limited trim shares a similar performance profile and engine specifications with the Laredo. However, the Limited stands out with interior and exterior upgrades. It features heated side mirrors that also integrate turn signals, enhancing visibility and safety. Additionally, the power liftgate with adjustable height adds convenience to loading and unloading. Acoustic glass and roof rails are exterior features shared across various trims.
Overland
The 3.6L Pentastar V6 and the 5.7L HEMI V8, the latter of which is available for the 4×4 Overland model, are the two engine options available for the Overland version. The Quadra-Trac II 4×4 system, which offers improved grip and control, and an air suspension system, which adds to a pleasant and adjustable ride, are notable characteristics of the Overland.
Summit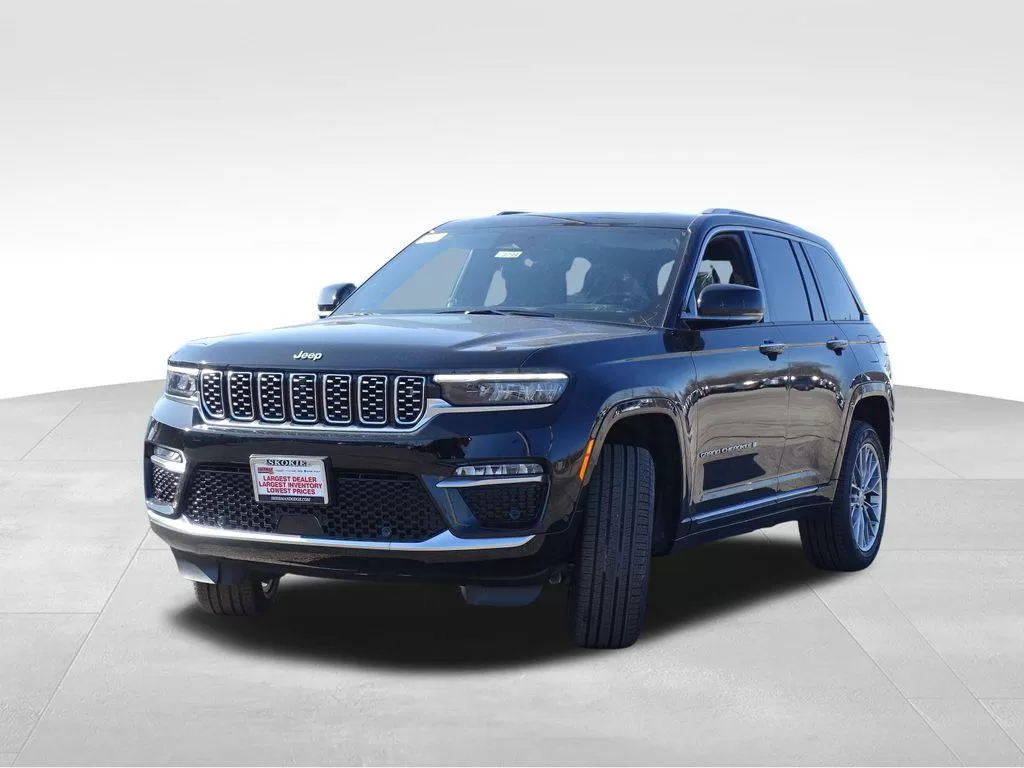 The Summit variant includes special amenities that raise its level of luxury and comfort while retaining identical performance specs to other trims. These include the second-row manual window blinds for light and privacy. The inside has exclusive details like open-pore wood inlays that give it a high-end look. Additionally, the Summit has a top-notch premium audio system and cutting-edge safety features, which improve the whole driving experience.
SRT
Powered by a powerful HEMI V8 engine, the SRT trim is performance-oriented. With its sport-tuned suspension and adaptive dampers, this version stands out because they enable a dynamic driving experience while preserving control. In addition, the SRT has sporty external features that add to its distinctive aesthetic appeal. It is adaptable and suited for both on-road and trail driving thanks to its off-road skills.
Trackhawk
The Trackhawk trim represents the pinnacle of performance within the inventory of Grand Cherokees available. It features a supercharged V8 engine, delivering exceptional power and acceleration. The Trackhawk's components are optimized for track performance, ensuring that it can handle high-speed driving with precision. This variant is the epitome of performance and engineering excellence, making it a thrilling choice for enthusiasts and those seeking top-tier performance in an SUV.
Test Driving And Inspection
When you come to our dealership for a test drive of the Jeep Grand Cherokee, our experts will be there to answer any questions and help guide you through each step. We'll sit down with you and explain all the features and specifications of the model that interest you so that you can make an informed decision.
Thorough Inspection Process
When inspecting the Jeep Grand Cherokee, a comprehensive approach is essential. This involves examining both the exterior and interior meticulously. Checking the exterior covers aspects such as visible damage, tire condition, light functionality, and glass integrity. Inside, the focus is on comfort, materials, interior features, and seat conditions.
Assessing the engine's performance, including responsiveness and idling, is crucial. Additionally, evaluating technology features and safety systems ensures a comprehensive understanding of the vehicle's condition and capabilities. Our technicians will also analyze the vehicle's history to make sure it has been well-maintained.
Negotiating The Price
Before entering negotiations for the purchase of a Jeep Grand Cherokee, it's crucial to research the market values of similar vehicles in your area. Online platforms, dealerships, and communities can provide insights into the typical price range for the specific model and trim you're interested in. This research empowers you to set a realistic budget, factoring in not only the vehicle's price but also taxes, registration fees, insurance costs, and potential future maintenance expenses.
When you're ready to begin the negotiation process, our sales professionals will help guide you through the various options and packages. Our knowledgeable team is dedicated to providing excellent customer service and helping you find a Jeep Grand Cherokee that meets your needs at a competitive price.
Financing And Ownership Costs
Exploring Financing Options
In the realm of financing, our dealership offers a variety of options tailored to your needs. These options include loans, leasing options, and the potential to trade in your current vehicle. Understanding financing terms is essential, and calculating monthly payments is a key step. This involves considering interest rates, loan durations, and the total loan amount. Additionally, recognizing the significance of down payments or trade-ins can greatly impact your financial arrangements. Our online credit application streamlines the process, allowing you to get pre-approved for your next vehicle conveniently.
Understanding Ownership Costs
The total cost of Grand Cherokee ownership involves multiple components, such as fuel expenses, insurance premiums, routine maintenance, and taxes. By accounting for these elements, you can create a comprehensive budget with the help of our staff. However, it's important to highlight that unexpected expenses can arise. Thus, including a contingency fund in your budget is wise. Furthermore, taking a long-term perspective is recommended, as understanding the impact of ownership costs over time is fundamental to your financial planning.
Get Your Jeep Grand Cherokee
The Jeep Grand Cherokee is an iconic SUV that is perfect for drivers who are looking for a reliable and powerful vehicle. If you want to make the most of your driving experience, Sherman Dodge has the best selection for you. With a wide selection of choices, you'll get top-notch customer service from our knowledgeable staff. We have different variants available to suit any budget or particular needs. Our team also offers competitive pricing, certified programs, and special offers that make sure customers get value for their money. Don't wait any longer; take steps today toward getting your dream Jeep Grand Cherokee by visiting our dealership. Feel free to contact us anytime.