Jeep Dealer in Staples Corner Illinois
Featured Jeep offers in Staples Corner IL
Our Jeeps are meticulously crafted to conquer various terrains, from rocky mountains to sandy beaches. With advanced 4×4 capabilities, superior suspension systems, and robust engines, you'll have the confidence to explore the world like never before. Experience unparalleled comfort and cutting-edge technology with modern interiors, luxurious features, and innovative infotainment systems, making every drive a memorable adventure. It's more than just a vehicle; it's an elevated lifestyle.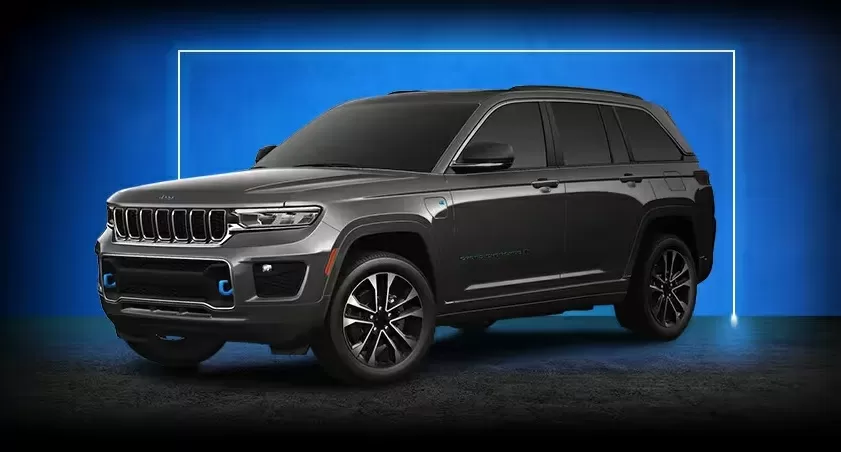 Jeep vehicles are known for their impressive performance and diverse drivetrain options. Whether you're navigating city streets or venturing off-road, Jeeps offer a range of drivetrains to match your needs. The advanced 4×4 systems provide excellent traction on various terrains, making them ideal for exploring challenging landscapes. On the other hand, efficient drivetrains offer responsive handling and fuel efficiency for everyday driving situations. This versatility in drivetrain options ensures that Jeep vehicles can adapt to different environments and driving preferences.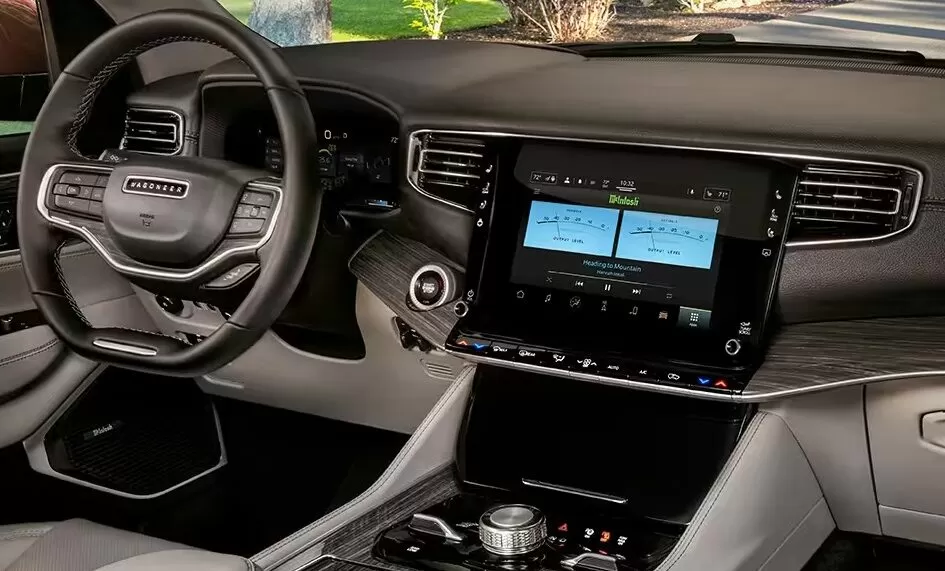 Jeeps seamlessly integrate advanced technology to elevate the driving experience. With state-of-the-art infotainment systems, drivers can enjoy hands-free connectivity, navigation, and entertainment. Additionally, innovative driver-assistance features provide enhanced safety, including adaptive cruise control and lane departure warning systems. These technologies work together to create a smarter, safer, and more connected journey for every driver behind the wheel of a Jeep.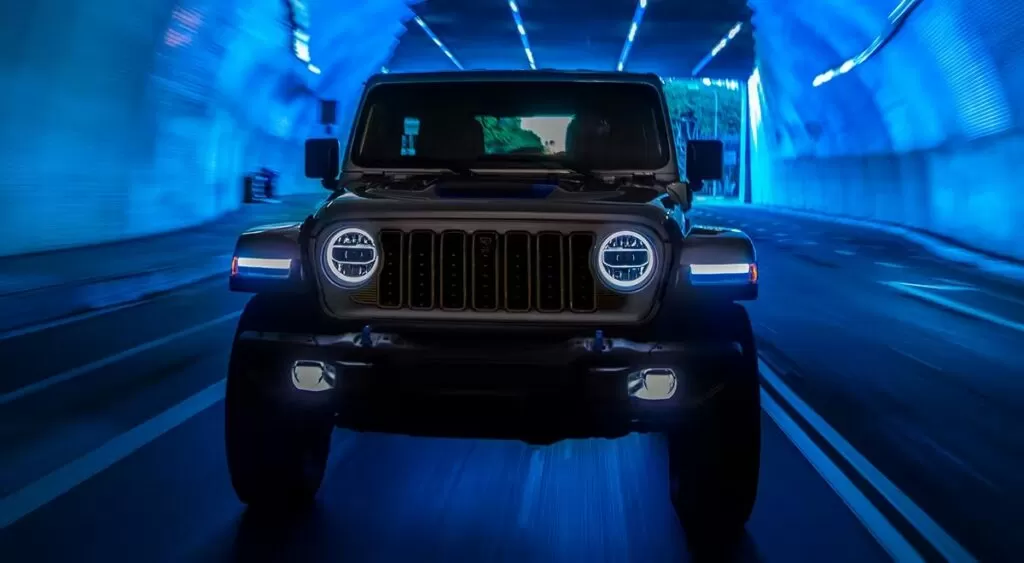 Jeep vehicles are renowned for their distinct design, harmonizing aesthetics and utility. The rugged exteriors feature iconic seven-slot grilles and robust lines, symbolizing their adventurous essence. Inside, ergonomic layouts provide comfort, matched by versatile storage solutions for diverse cargo requirements. Meticulous attention to detail extends to the interior, creating a harmonious blend of practicality and aesthetics. Jeep vehicles encapsulate both visual appeal and functional design for a compelling driving experience.
A Jeep Shopping Experience Fully Online
Step into a world where innovation meets adventure. Explore our lineup of iconic vehicles designed to take you places you've only dreamed of. From the urban landscape to the untamed wilderness, Jeep offers the ultimate blend of style, capability, and heritage. Dive into the journey of a lifetime on our main website and uncover the boundless possibilities that await you with every Jeep model.
Monday 9:00AM – 8:00PM
Tuesday 9:00AM – 8:00PM
Wednesday 9:00AM – 8:00PM
Thursday 9:00AM – 8:00PM
Friday 9:00AM – 8:00PM
Saturday 9:00AM – 7:00PM
Sunday Closed
Monday 6:00AM – 6:00PM
Tuesday 6:00AM – 6:00PM
Wednesday 6:00AM – 6:00PM
Thursday 6:00AM – 6:00PM
Friday 6:00AM – 6:00PM
Saturday 7:00AM – 5:00PM
Sunday Closed
Overview Of All Jeep Models Available in Staples Corner IL
Jeep is a unmatched vehicle that is available in multiple configurations, each with its own characteristics and unique features. The main models we can deliver to Staples Corner, IL as of 2023 include:
Jeep Cherokee: The Jeep Cherokee offers a blend of style and capability. Known for its modern design, it provides a comfortable ride and a range of engine options, including efficient four-cylinder and powerful V6 engines. With available off-road packages, it's versatile enough to handle both daily commuting and adventurous outings.

Jeep Compass: The Jeep Compass is a compact SUV that strikes a balance between city-friendly dimensions and off-road prowess. It offers a comfortable interior, user-friendly infotainment system, and available all-wheel drive. The Compass is an excellent choice for those seeking a versatile and efficient SUV.

Jeep Gladiator: The Jeep Gladiator is a unique pickup truck that combines off-road capabilities with the utility of a truck bed. It boasts iconic Jeep styling, impressive towing capacity, and removable doors and roof for an open-air experience. The Gladiator is perfect for those who want the versatility of a truck without sacrificing Jeep's rugged DNA.

Jeep Grand Cherokee: The Jeep Grand Cherokee is a premium midsize SUV known for its upscale interior, powerful engine options, and well-rounded performance. It offers a blend of luxury and off-road capabilities, making it suitable for families seeking both comfort and adventure.

Jeep Grand Cherokee L: The Jeep Grand Cherokee L is an extended version of the Grand Cherokee, offering three rows of seating for larger families. It maintains the Grand Cherokee's luxurious features while providing additional space for passengers and cargo.

Jeep Renegade: The Jeep Renegade is a compact crossover with a distinctive design and off-road capability. It's perfect for urban environments while still offering Jeep's iconic styling and available all-wheel drive for light off-roading.

Jeep Grand Wagoneer: The Jeep Grand Wagoneer is a full-size luxury SUV that returns with a blend of classic styling and modern features. With premium materials, advanced technology, and three rows of seating, it offers a high-end driving experience.

Jeep Wagoneer: The Jeep Wagoneer is a slightly smaller version of the Grand Wagoneer, offering similar luxury and features in a more compact package.

Jeep Wagoneer L: The Jeep Wagoneer L is the extended version of the Wagoneer, providing additional space for passengers and cargo with three rows of seating.

Jeep Wrangler: The Jeep Wrangler is an iconic off-road SUV renowned for its legendary 4×4 capabilities, removable doors and roof, and rugged design. It's a symbol of adventure and exploration, making it a favorite among off-road enthusiasts.
Each Jeep model caters to different preferences and needs, offering a wide range of options from compact crossovers to luxurious SUVs and durable off-road vehicles.
Ordering a Jeep in Staples Corner
If you're looking to explore the perfect blend of capability and style in Staples Corner Illinois, Jeep is your go-to. Whether you crave off-road adventures or city commutes, we have the right vehicle for you. Reach out to us today to arrange an in-person or virtual tour. Our team of professionals is eager to assist you in selecting the perfect Jeep for you in Staples Corner Illinois. Don't wait, connect with us now to embark on your Jeep journey.