Navigating Your Adventure: Jeep Compass For Sale In Chicago
Embark on elevated urban adventures with a Jeep Compass for sale in Chicago and elevate your drive to new heights. Buy now!
Are you ready to take your urban adventures to new heights? The Jeep Compass for sale in Chicago is available here. Whether it's cruising the city streets or taking a country road trip, the Jeep Compass offers solid performance and reliability you can depend on. With its affordable pricing and modern design, the Jeep Compass is the perfect vehicle for those who want to stand out from the crowd.
To make sure you get the best possible deal, take the time to compare prices offered by different dealerships in Chicago so you can find one from our dealership that fits within your budget. Additionally, make sure you do extensive research before buying a car to ensure you're getting the best possible model for your needs. Buy now and experience the thrill of navigating your own adventure!
Why Is The Jeep Compass A Popular Choice In Chicago?
The Jeep Compass is a popular choice among Chicago residents for several compelling reasons. It has an attractive price tag and modern styling—characteristics that make it stand out from the competition.
All-Weather Versatility
The Jeep Compass has a robust all-wheel-drive system and traction control that help Chicagoans manage the rigors of winter weather. The all-wheel-drive system provides drivers with added confidence in wet, icy, or snowy conditions, while traction control helps them navigate these treacherous conditions more safely and securely. With features such as hill descent control and 4×4 lock, it can handle almost any terrain or condition that comes its way—from snow to sleet to rain. The Jeep Compass is an all-purpose car that will take you wherever you need to go, no matter what Mother Nature throws at Chicago!
Compact Size, Spacious Interior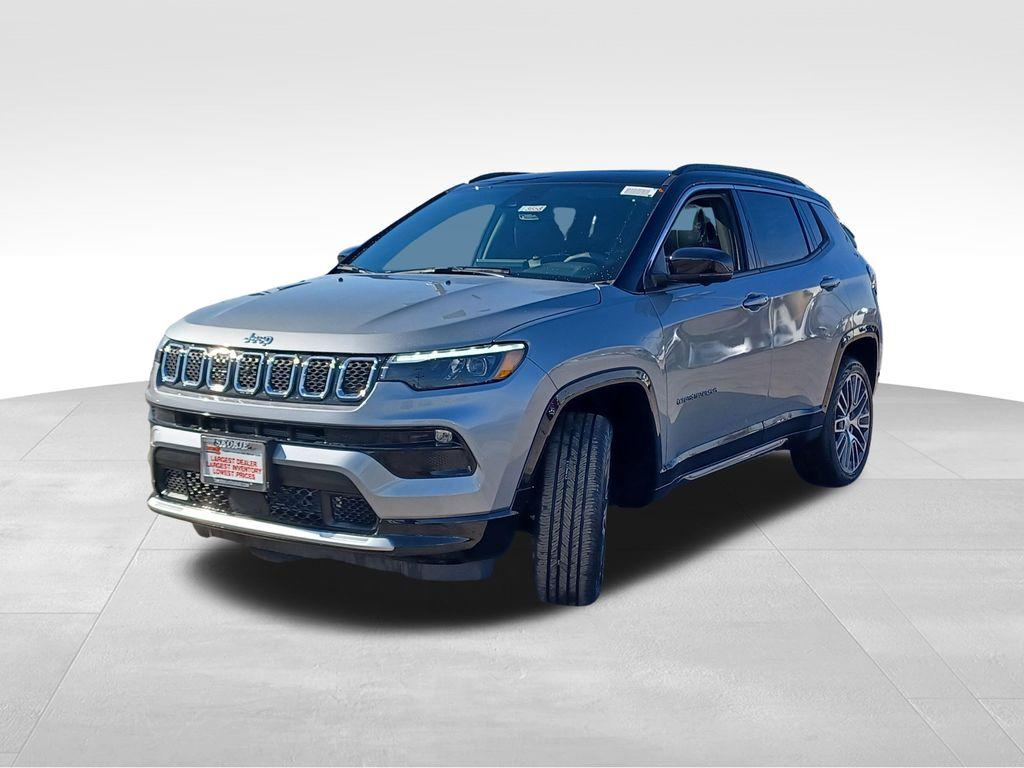 The Jeep Compass is the perfect size for navigating Chicago's busy streets and tight parking spaces. Its dimensions make it easy to park, fit into small garages, and weave through the city's narrow lanes. Plus, its spacious interior ensures that there is plenty of room for up to five passengers and all your cargo. The flexible storage system also allows you to adjust the luggage area according to your needs. With its agile maneuverability and excellent visibility, you can feel confident navigating Chicago in the Jeep Compass.
Commute-Friendly Efficiency
The Compass comes with two engine options to choose from. The 2.4L Tigershark® MultiAir® 2 engine is fuel-efficient and provides a smooth ride, while the 2.0L Direct Injection Turbo engine offers extra power for more adventurous drivers when they need it. With either of these engines, commuting in Chicago has never been easier; you can enjoy a reliable and efficient drive without breaking the bank at the pump. Plus, both engines are mated to an available 9-speed automatic transmission for optimum performance and efficiency. No matter what kind of commute you're taking, the Jeep Compass will get you to your destination with ease.
Technology And Connectivity
It also comes with a variety of advanced technological features to make your driving even more enjoyable. The Uconnect® 4 system offers an intuitive 8.4-inch touchscreen to control and access your entertainment and communication features easily. It also offers Apple CarPlay® along with Android Auto™ integration so you can access your apps and music from the road. Additionally, the Jeep Compass is available with both adaptive cruise control as well as full-speed forward collision warning to make your drive as safe as possible. And for nighttime drives, automatic high beam headlamps will automatically change between high and low beams according to the light traffic ahead of you – no fiddling with the headlights needed.
Adapting To City And Suburbs
The Jeep Compass is a versatile vehicle that allows drivers to comfortably and safely navigate both urban and suburban areas. The Uconnect® 4 system provides useful features like lane departure warning and blind spot monitoring, making it easier to maneuver through traffic. Its 2.4-liter MultiAir® engine offers up to 180 horsepower, giving drivers the power they need to tackle both city streets and highway ramps. The Jeep Compass also features an available Selec-Terrain® Traction Management System that helps it handle various terrain types like snow, sand, mud, or gravel – perfect for those weekend trips away from the city.
Cultural Fit
The Jeep Compass is a perfect fit for the always-on-the-go city of Chicago. Its values of adventure and freedom perfectly align with the diverse and vibrant culture that exists in the Windy City. From long road trips to sports events, the versatile Compass can take you wherever you need to go in style. Its combination of power, agility, and practicality makes it great for all kinds of activities, whether they be solo adventures or celebrations with friends and family. Chicago offers so many amazing things to do and see on a daily basis, but having the right vehicle can make those experiences even more special.
Local Community And Events
The Jeep Compass has attracted a strong following in the Chicago area, with many dedicated clubs and events designed to celebrate its capabilities and bring enthusiastic owners together. There's always something going on for Jeepers in the Windy City. These events often attract large crowds of people with a shared passion for the outdoors and exploration, creating an active community of like-minded individuals who want to make the most out of their Jeeps. Local clubs offer great opportunities to connect with other Jeep owners and explore nearby trails, meaning that no matter where your weekend adventure takes you, you won't be alone.
Available Trims Of Jeep Compass At Sherman Dodge
The Compass comes in a variety of trims, each offering different features, capabilities, and levels of customization.
Sport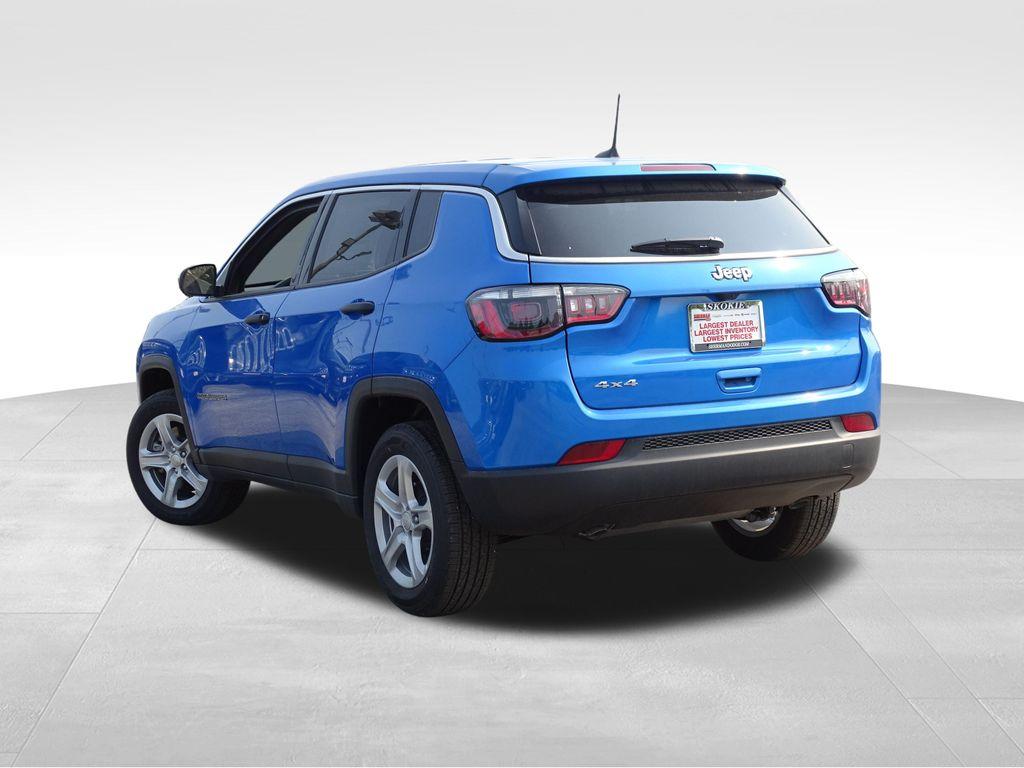 The Sport trim is the entry-level Jeep Compass model, offering essential features and amenities at an affordable price. It comes standard with cloth upholstery, air conditioning, and a six-speaker audio system. For off-roading, the Sport trim includes a Select-Terrain traction control system that allows drivers to set their vehicle for different driving conditions. Other features available in this trim include Bluetooth connectivity, forward collision warning, remote keyless entry, and electronic stability control.
Trailhawk
The Trailhawk trim of the Jeep Compass is designed to tackle more extreme off-road adventures with specialized suspension tuning, skid plates, and an advanced 4×4 system. The Trailhawk trim stands out for its ability to take on tough terrain; it's equipped with low-range gearing, a 20:1 crawl ratio, and two locking differentials for improved traction in a variety of conditions. It also has impressive ground clearance, allowing drivers to go over obstacles with confidence. All these features make the Trailhawk ideal for going off the beaten path and enjoying an adventure without worry.
Latitude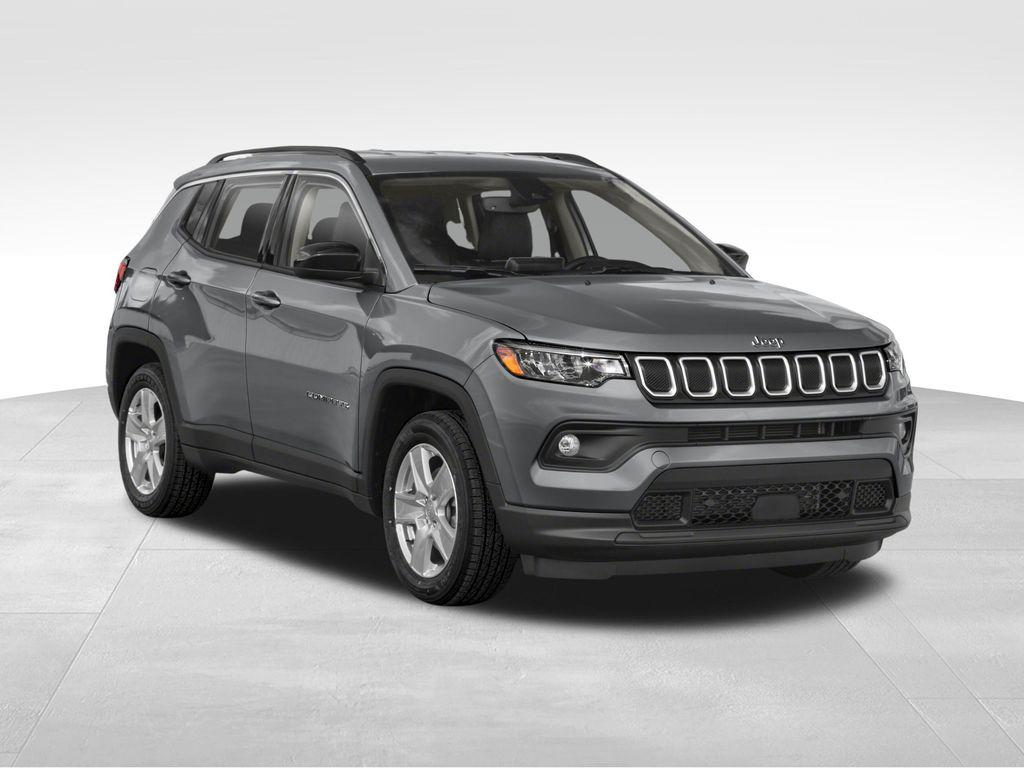 The Latitude trim adds a variety of upgrades to the Jeep Compass. It includes standard features such as alloy wheels, a 7-inch touchscreen infotainment system, and an automated temperature control system. It also offers optional features like Apple CarPlay/Android Auto smartphone integration and heated front seats. For added convenience and safety, Latitude models come with power windows and mirrors, a rearview camera, parking sensors, and blind spot monitoring capabilities. With the Latitude trim, drivers can customize their Jeep Compass to match their unique driving needs.
High Altitude
The High Altitude trim of the Jeep Compass is designed for those who want to combine upscale style with advanced features. It comes with glossy black accents, chrome grille surrounds, an 8-way power driver's seat with lumbar support, and a leather-wrapped steering wheel. It also includes advanced safety technologies such as Blind Spot Monitoring and Rear Cross detection for improved security on the road. With its sophisticated styling and convenient features, the High Altitude trim of the Jeep Compass is perfect for those looking to stand out on their next adventure.
Limited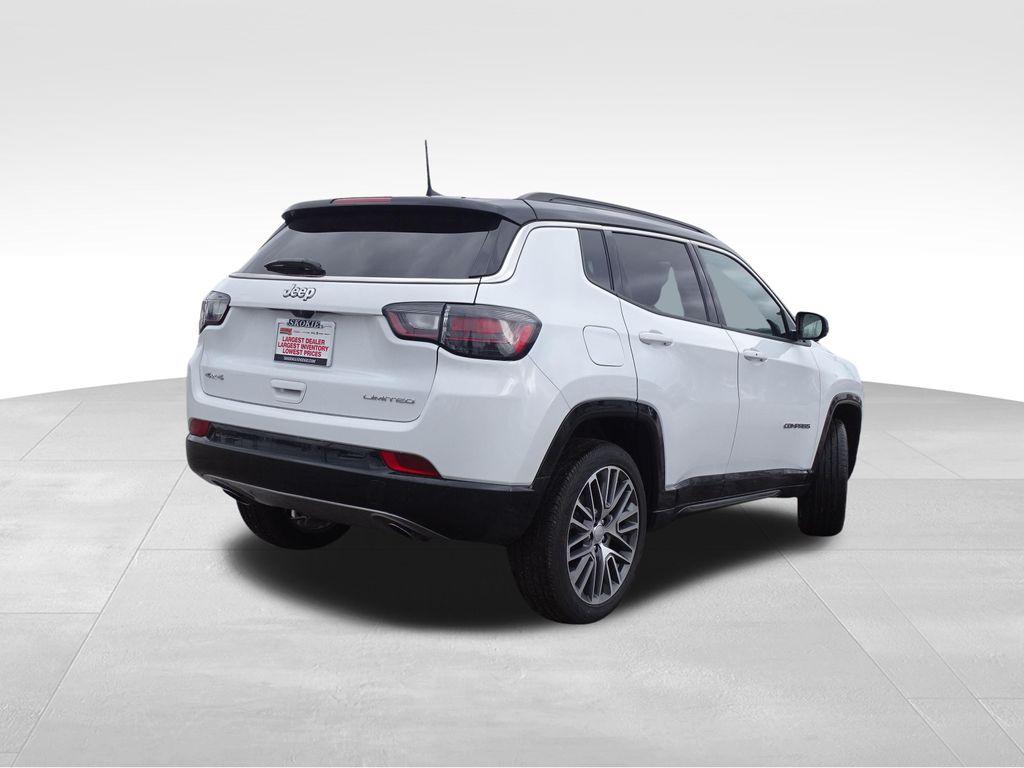 The Limited trim takes the features of the Latitude to the next level with premium interior materials like leather upholstery, heated and ventilated front seats, and a power-adjustable driver's seat for added comfort. Drivers also have access to an advanced infotainment system, including an 8.4-inch touchscreen display and navigation capabilities. Safety is also important, and this trim includes automated emergency braking, lane keep assist, rear cross-traffic alert, and full-speed forward collision warning. All these features provide drivers with maximum safety and convenience while driving their Jeep Compass.
Jeep Compass Shopping In Chicago: Tips And Insights!
For shopping in Chicago for a Jeep Compass, there are several important tips to keep in mind.
Research Dealerships
Finding a reputable Jeep dealership in Chicago, such as Sherman Dodge, is critical to getting the best deal and finding the perfect vehicle for you. A good dealership is committed to providing an outstanding experience before, during, and after your transaction. They should also be knowledgeable about the Jeep brand, have a great selection of vehicles in stock, and be transparent with pricing and financing options.
Online Research
Exploring Jeep Compass models, comparing features, and gathering essential information from a dealership website is a great way for potential buyers to make an informed decision. For instance, on the Sherman Dodge website, you can view an extensive inventory of new and pre-owned Jeep Compass models with detailed descriptions of each one's features. You can also compare different trims side-by-side to compare prices and performance capabilities like cargo space and fuel economy.
Test Drive
Test drives are an important part of the car-buying process, and this is especially true when considering a Jeep Compass purchase. By taking a test drive, you'll be able to experience firsthand the performance and handling of the vehicle on different surfaces and terrain. This will give you a good idea of what you can expect from your Jeep Compass when driving on or off-road. To get the most out of your test drive, make sure to try different speeds, turns, and surfaces so that you can evaluate how it handles different driving conditions.
Consider Certified Pre-Owned
Certified pre-owned (CPO) Jeep Compass vehicles are a great option for those looking to buy a pre-owned car. Many CPO vehicles come with factory warranties, which provide buyers with peace of mind that their car will perform as expected. Additionally, many CPO cars have gone through rigorous inspections and reconditioning to ensure they meet a high standard of quality. This means buyers can be confident that their Jeep Compass has been thoroughly checked out before purchase and should have fewer issues than non-certified used cars.
Negotiate Wisely
When negotiating for a Jeep Compass, it's important to stay focused on the target price and not give in to short-term offers. If possible, research similar models in the area and find out what their prices are so you have an understanding of the realistic range. Don't be afraid to ask for extras like maintenance or roadside assistance with the purchase – these can be great value-adds that may make the car worth a little extra money. Keep in mind that used car dealerships are often open to negotiation on price, so it's best to arrive prepared and willing to discuss a lower number than the asking price.
Check Vehicle History
It's important to check the vehicle's history before committing to a purchase. Vehicle history reports provide detailed information about the car, including its past owners, service records, and any accidents that it may have been involved in. These reports can reveal important information about the vehicle's past, including whether it has had regular maintenance or if it has ever been involved in an accident. This data can be invaluable when making a decision on whether or not to buy a used car.
Understanding Financing Options
When considering financing options, it's important to understand all of the available options. Buyers of the Jeep Compass can choose from a variety of financing solutions, including traditional bank loans, leasing plans, and credit union loans. They do require a down payment, however, which can be substantial depending on the loan terms. Leasing plans may also be available for those who prefer not to own their vehicle outright. And credit union loans often have lower interest rates compared to bank loans, making them an attractive option for those looking for more affordable monthly payments.
Consider Resale Value
When considering a new Jeep Compass, it is important to factor in its resale value. The resale value of a vehicle impacts how much money you will get back from it if you decide to sell it. A higher resale value means more money when it's time to sell, which is especially important since the Jeep Compass has a relatively high purchase price. Furthermore, because the Compass has such a great reputation and is highly sought after on the used market, its resale value could increase over time. This could be beneficial for those who choose to purchase their own car instead of leasing one.
Ready For City Adventures? Buy Your Perfect Jeep Compass Today!
Buying a Jeep Compass in Chicago doesn't have to be a stressful process. Our dealer works with customers to make the buying journey seamless and enjoyable. From researching the features of the car to finding the best financing options that will fit your budget, our team can help you every step of the way. And with our dealership's competitive prices and great resale value, you're sure to find your perfect Jeep Compass right here in Chicago!