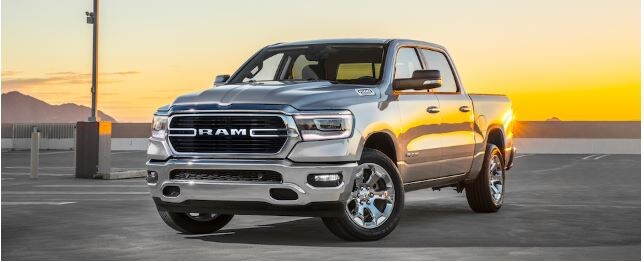 Comparing the 2019 Ram 1500 to 2019 Ford F-150 Trucks
There has never been a better time to find a powerful and versatile large pickup truck to incorporate into your work or personal life.  The market is full of quality trucks that are able to perform the tasks you have planned for it.  But not all pickup trucks are created equal.  Sherman Chrysler Dodge Jeep Ram in Skokie will show you what sets its Ram 1500 apart from a formidable competitor, the Ford F-150.
Ram 1500 vs Ford F-150 
The Ford F-150 is largely unchanged, concerning its design and engineering.  It does, now give you a few more options as standard on certain trim levels, but largely  While the Ram 1500 gets a totally fresh look and is engineered with a lighter aluminum body and stronger steel frame, while also increasing its payload and towing capacity.
The Ram 1500 gives you a standard 305-horsepower, 269 pound-feet of torque Pentastart V6 with a mild-hybrid system called eTorque, an optional 5.7-liter V8, that gets 396-horsepower and 410 pound-feet of torque.  There is also an Ecodeisel 3.0-liter V6, with 480 pound-feet of torque.  The F-150 starts with a 3.3-liter V6 and gives you other options, like a diesel-powered V6.
The Ford F-150 is capable of pulling up to 13,200 pounds based on equipment. With a payload of 3,270 pounds.  The Ram 1500 can pull up to 12,750 pounds with a payload of 2,300 pounds.  Unlike the F-150, the Ram doesn't feel the strain from the heavy loads and stopping is no problem when pulling a loaded trailer.
The cargo bed of the Ram 1500 brings you four different lengths with helpful features like the deployable tailgate step and a Rambox storage system.  You can add storage compartments into the walls of the bed to provide a lockable box for your personal items.  You can choose between three different bed lengths on the F-150.  There are available ramps and moveable tie-downs to secure your cargo.
Come See the Differences the Ram 1500 Gives Chicago Drivers
Which features are important to you.  If you need to add a truck for your Arlington Heights or Park Ridge work site, look into the Ram 1500 and the features it brings to the table.  Sherman Chrysler Dodge Jeep Ram is a short drive from Evanston and Niles, in Skokie.  Check out our
new Ram 1500 trucks for sale in Chicago
and find the truck that can handle any job you have ready for it.