Ram ProMaster for Sale near Chicago, IL
Testimonials
GOOGLE
December 11, 2017
GOOGLE
December 11, 2017
GOOGLE
December 11, 2017
GOOGLE
December 9, 2017
GOOGLE
December 8, 2017
GOOGLE
December 7, 2017
GOOGLE
December 5, 2017
GOOGLE
December 5, 2017
GOOGLE
December 5, 2017
Great service
CARS
December 4, 2017
2007 Dodge Caliber
CARS
December 3, 2017
GOOGLE
December 3, 2017
GOOGLE
December 3, 2017
GOOGLE
December 1, 2017
GOOGLE
December 1, 2017
GOOGLE
November 30, 2017
GOOGLE
November 30, 2017
GOOGLE
November 30, 2017
GOOGLE
November 30, 2017
GOOGLE
November 30, 2017
Read More
Sales Hours
855-511-6900
| | |
| --- | --- |
| Monday | 9:00 am - 9:00 pm |
| Tuesday | 9:00 am - 9:00 pm |
| Wednesday | 9:00 am - 9:00 pm |
| Thursday | 9:00 am - 9:00 pm |
| Friday | 9:00 am - 9:00 pm |
| Saturday | 9:00 am - 7:00 pm |
| Sunday | Closed |
Delivery Specialist Hours
847-982-9500
| | |
| --- | --- |
| Monday | 9:00 am - 9:00 pm |
| Tuesday | 9:00 am - 9:00 pm |
| Wednesday | 9:00 am - 9:00 pm |
| Thursday | 9:00 am - 9:00 pm |
| Friday | 9:00 am - 9:00 pm |
| Saturday | 9:00 am - 7:00 pm |
| Sunday | Closed |
Service Hours
855-227-3033
| | |
| --- | --- |
| Monday | 7:00 am - 6:00 pm |
| Tuesday | 7:00 am - 6:00 pm |
| Wednesday | 7:00 am - 6:00 pm |
| Thursday | 7:00 am - 6:00 pm |
| Friday | 7:00 am - 6:00 pm |
| Saturday | 7:00 am - 3:00 pm |
| Sunday | Closed |
Parts Hours
855-227-3033
| | |
| --- | --- |
| Monday | 7:00 am - 6:00 pm |
| Tuesday | 7:00 am - 6:00 pm |
| Wednesday | 7:00 am - 6:00 pm |
| Thursday | 7:00 am - 6:00 pm |
| Friday | 7:00 am - 6:00 pm |
| Saturday | 7:00 am - 3:00 pm |
| Sunday | Closed |
Finance Hours
| | |
| --- | --- |
| Monday | 9:00 am - 9:00 pm |
| Tuesday | 9:00 am - 9:00 pm |
| Wednesday | 9:00 am - 9:00 pm |
| Thursday | 9:00 am - 9:00 pm |
| Friday | 9:00 am - 9:00 pm |
| Saturday | 9:00 am - 7:00 pm |
| Sunday | Closed |
Mobility Specialist Hours
| | |
| --- | --- |
| Monday | 9:00 am - 9:00 pm |
| Tuesday | 9:00 am - 9:00 pm |
| Wednesday | 9:00 am - 9:00 pm |
| Thursday | 9:00 am - 9:00 pm |
| Friday | 9:00 am - 9:00 pm |
| Saturday | 9:00 am - 7:00 pm |
| Sunday | Closed |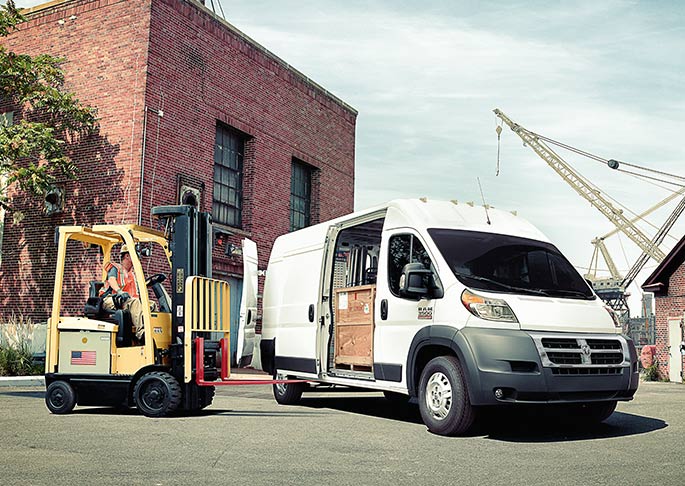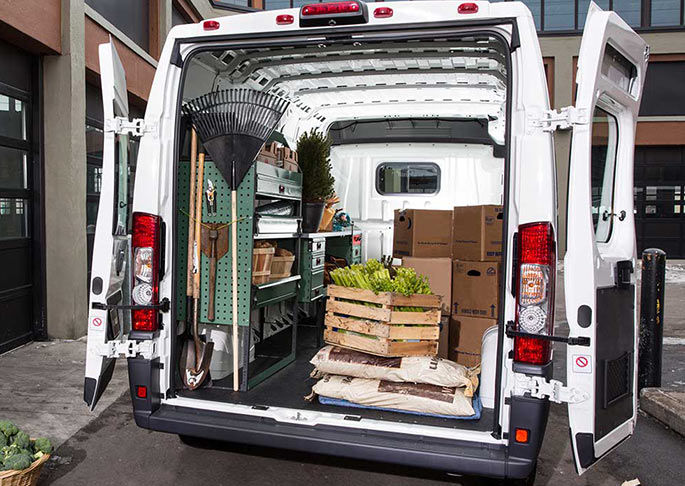 When it comes to choosing the right Ram ProMaster for sale near Chicago, IL, we at Sherman Dodge are happy to help! There are a number of trims to choose from, all engineered to accomplish each job with competence and finesse. Put these vans to the test when you drop by our location at 7601 N. Skokie Blvd. in Skokie, IL, today!
Whether you're interested in the Cargo Van, Chassis Cab, Cutaway, or Window Van, the Ram ProMaster comes in an iteration that's sure to make your job easier. We also have a great selection with a wide range of options, so you can pick one that best suits your budget. New or pre-owned, we're sure you'll love the amazing perks that come with a Ram ProMaster. The Cargo Van boasts an outstanding 460 cubic ft. of cargo space, and the 2016 model is capable of a 5,000-lb. maximum towing capacity1 that truly brings everything along. The 260-degree door openings in the rear are designed to be functional even in the tightest of spaces – folding nearly flat to the sides of the Ram ProMaster Cargo Van, easy access is here to stay.
Every trim of the Ram ProMaster for sale near Chicago, IL, is remarkable in its own way, such as the Chassis Cab, for instance. It has an 18,500 miles oil change interval with the available EcoDiesel engine while the Cutaway has a best-in-class2 standard V6 engine and standard remote keyless entry. The Window Van is equipped with Brembo® Brakes and even can be outfitted with with Parkview® Rear Back Up Camera3 to make every move in reverse a confident one. One attribute they all have in common is the Class-Exclusive Front-Wheel-Drive system4, which was created entirely with the demands of the jobsite in mind. Allowing the ProMaster to be nimble and agile is crucial to its usefulness as a work truck – with the multiple goings-on around every workplace, it's imperative that the ProMaster be responsive, and that's exactly what the FWD system does.
It doesn't matter whether you're just beginning your search or ready to purchase. We at Sherman Dodge are happy to help you with any Ram ProMaster for sale near Chicago, IL, that's on our lot. We try to make as much available online as possible so you can do as much research as you need, whether your concern is with financing or what to do with your current truck. We're here to help face-to-face, as well, of course, so don't hesitate to drop by to speak with one of our highly-trained staff members!
1. When properly equipped. See dealer for details.
2. Based on manufacturer's claim.
3. Always check entire surroundings visually before backing up.
4. Based on the Large Commercial Van Segment (Class 2).